Expertise
iOS/Android

Unity

UX/UI

Product Design

Development
When the Exploding Kittens card game achieved massive success in its Kickstarter campaign, its creators saw an opportunity to leverage its existing audience and build a unique digital game experience.
The Opportunity
Exploding Kittens blasted onto the scene in 2015 when it made headlines for being the most-funded game in Kickstarter history. The simple yet hilarious card game created by Elan Lee (Xbox, ARGs), Matthew Inman (The Oatmeal), and Shane Small (Xbox, Marvel) ended its campaign with almost 220,000 backers contributing nearly $8.8 million to its funding.
When the time came to transform it into an app, the creators approached us to turn their hit card game into an interactive, screw-your-friends-over party experience with new cards, sounds, and features. Because Exploding Kittens had achieved immense popularity, we knew we had to make the app version extraordinary to please its creators and fans—and we had to develop versions for both iOS and Android.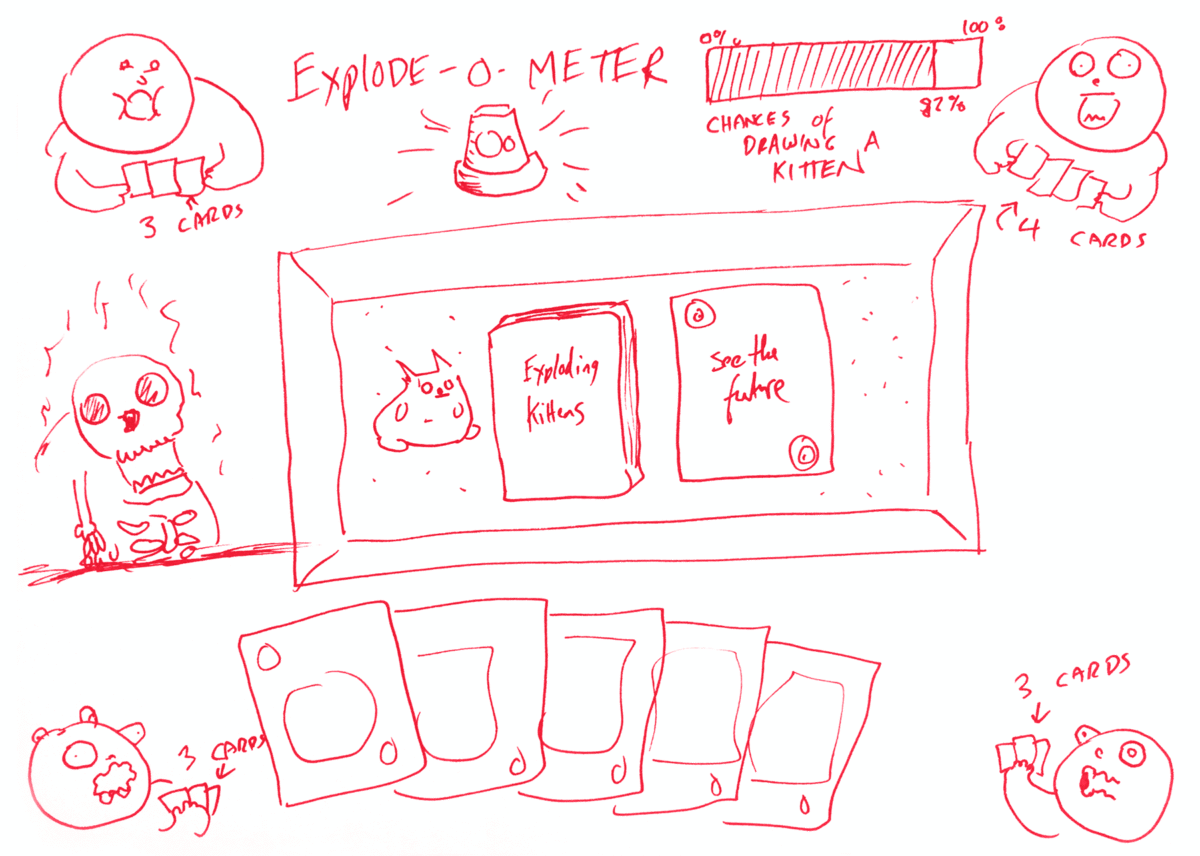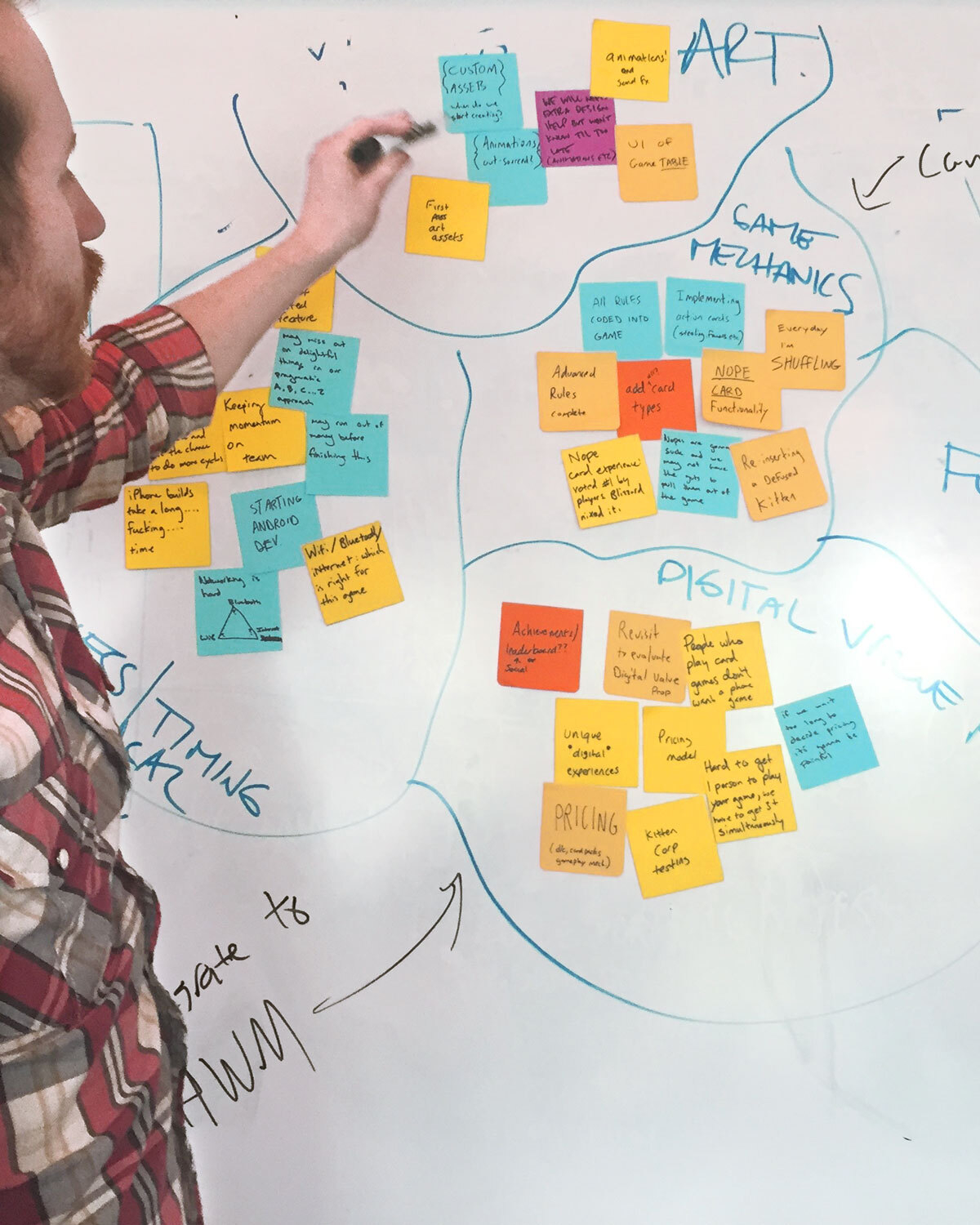 Strategic Vision
Creators Elan Lee, Shane Small and Matt Inman decided it was time to leverage the existing fan base by expanding into the digital marketplace. Partnering with Substantial, the vision to create an iOS app that would evolve and improve the original game was set in motion.
Substantial started the project with a quick discovery phase to intimately understand the content, mechanics, and flow of the physical game. Key to our strategy was to simultaneously create the interface and build a prototype in Unity3d, playing and testing as we went along.
Design & Build
After aligning on the project vision, we transitioned to a series of collaborative design sessions for interface creation, while simultaneously building on the development platform to tackle the complex challenge of creating a local, peer-to-peer party game.
Our team built concepts and presented to the Exploding Kittens crew for feedback. During the iteration, a challenge emerged—some of the cards and rules of the game just didn't fit in a digital space. We constantly challenged ourselves to create solutions that would improve upon the existing game, leading to an experience for fans that is unique to the app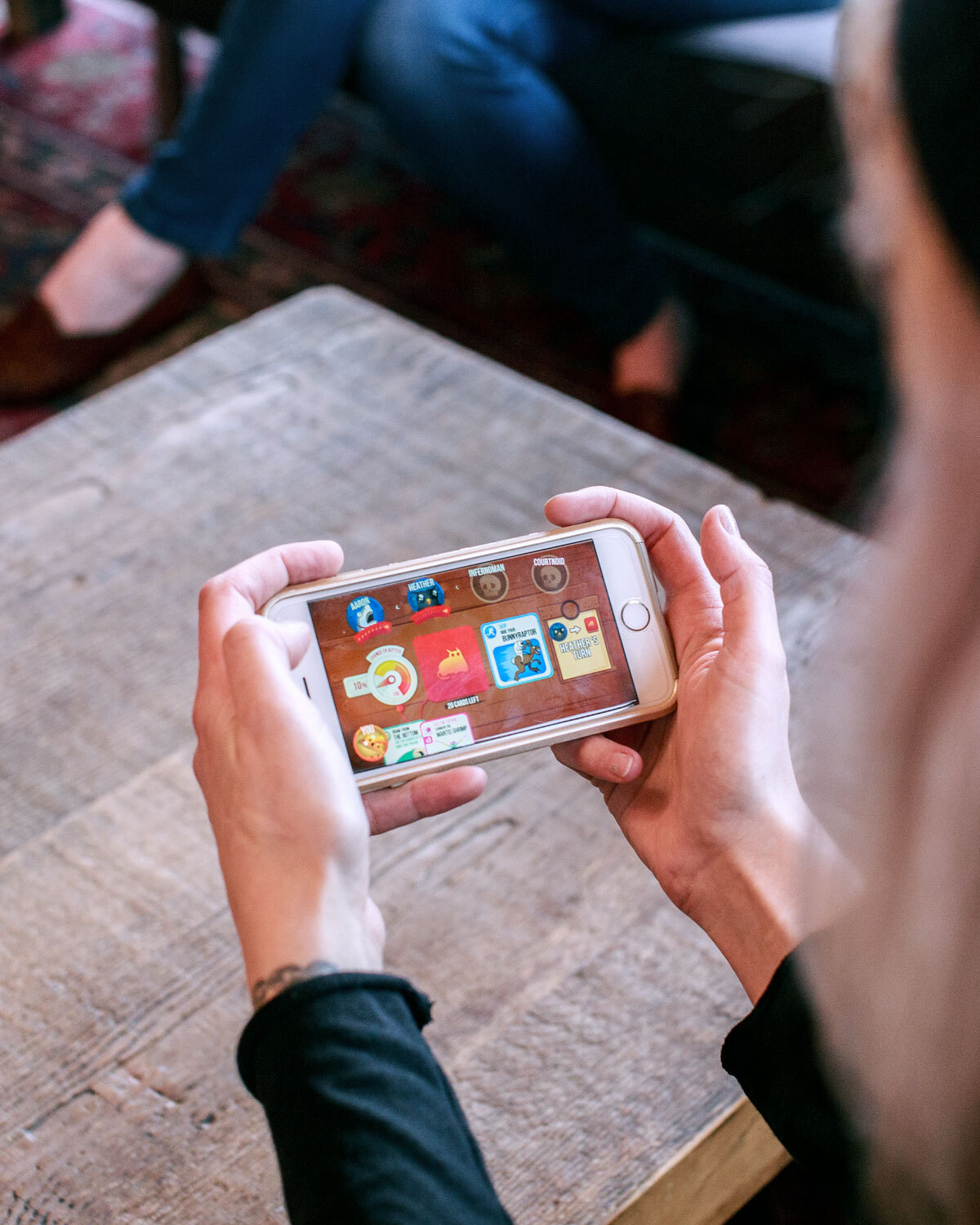 Optimize
Throughout the entire project, the Substantial team and LA-based Exploding Kittens creators worked closely, collaborating with rapid iterations, constant play testing, and back-and-forth feedback sessions. We made builds available to everyone from the earliest stages of the project and regularly enlisted friends, family and co-workers to play and give feedback—giving us an opportunity to learn and refine in real time.
A cat playing Exploding Kittens
"

The App Store version of Exploding Kittens isn't just a port. It's a whole new experience. Now if you'll excuse me, I've got to go spray my wife with cat diarrhea.

John Brownlee / Fast Co Design
Evolve
Upon release, the app quickly received a frenzy of media coverage. Leading tech sites, like Fast Company's Co.Design, TechCrunch, Polygon, and VentureBeat, interviewed our product team to run features on our approach to translating this awesome card game to the mobile phone.
Exploding Kittens also became the top paid app in the App Store and Google Play Store within hours of launching, and remains one of the most popular gaming apps of all time, featured dozens of times by the App Store. Two years after launch, it still ranks among the top three card games on iOS, and is in the top 50 paid apps in the store.
With a 4.7 rating and 4,200 reviews on the App Store, and also a 4.7 with over 32,000 reviews on Google Play. A Substantial joint venture, the Exploding Kittens app is one of our most delightful and critically acclaimed digital works.
Fast Facts
100k
new users during first week of release
#1
paid app on the Apple App Store during launch
Let's build a better future, together.