Careers
Hone your craft at Substantial
We want you to do your best work possible – to inspire, educate and create real impact with every project you deliver.
Open positions
Join the Team
Designers
Optimists
Strategists
Baristas
Engineers
Creatives
Advocates
Cat lovers
Cyclists
Musicians
Futurists
Dog lovers
Inventors
Parents
Designers
Optimists
Strategists
Baristas
Engineers
Creatives
Advocates
Cat lovers
Cyclists
Musicians
Futurists
Dog lovers
Inventors
Parents
Our Team
We're a diverse group of problem solvers
We are creatives, strategists, researchers, and technologists driven by ambition and curiosity. With diverse backgrounds – design agencies, strategy consultancies, start-ups and edtech – we're united by a collective vision to design compelling experiences with lasting impact.
Our Purpose
Build responsibly
Our Values
Whether through curiosity, creativity or code, we foster and deliver meaningful, sustainable innovation.
Care + Connect
We put people first, investing in each other and our work with empathy and respect.
Learn + Teach
Our success comes from the courage to experiment, iterate, and share what we've learned.
Work Together
Our people and clients are one team – working to create meaningfully better experiences.
Be Authentic
We bring our whole selves to work and value what makes us unique.
Build Responsibly
We understand the larger context of the work we do and create with intention and conviction.
Diversity, Equity and Inclusion
Our work in diversity, equity, inclusion and belonging is at an early stage, but we are invested in long term change.
Leadership
We are united-leadership, committed to building a future-ready organization and guided by our commitment to equity, inclusion, responsible innovation, and a sense of purpose and joy.
Culture
We are strengthening our culture of belonging for BIPOC and historically underrepresented groups by addressing dominant-culture workplace norms and creating rituals that explicitly foster critical thinking, equity and racial literacy.
Talent
We are focusing on increasing access to individuals on the basis of BIPOC and historically underrepresented groups in order to transform the demographics of Substantial to meet and exceed regional diversity benchmarks.
Delivery
We utilize equity-centered practices to uncover cognitive biases and systemic patterns of exclusion and oppression in the work we deliver. Ensuring equitable outcomes and accessibility for vulnerable populations requires action beyond representation.
Inclusion Council
To ensure our DEI efforts are connected to our work and integrated across all aspects of Substantial, we have formed a council of employees to augment DEI initiatives and advise company leadership on needs and progress throughout the organization.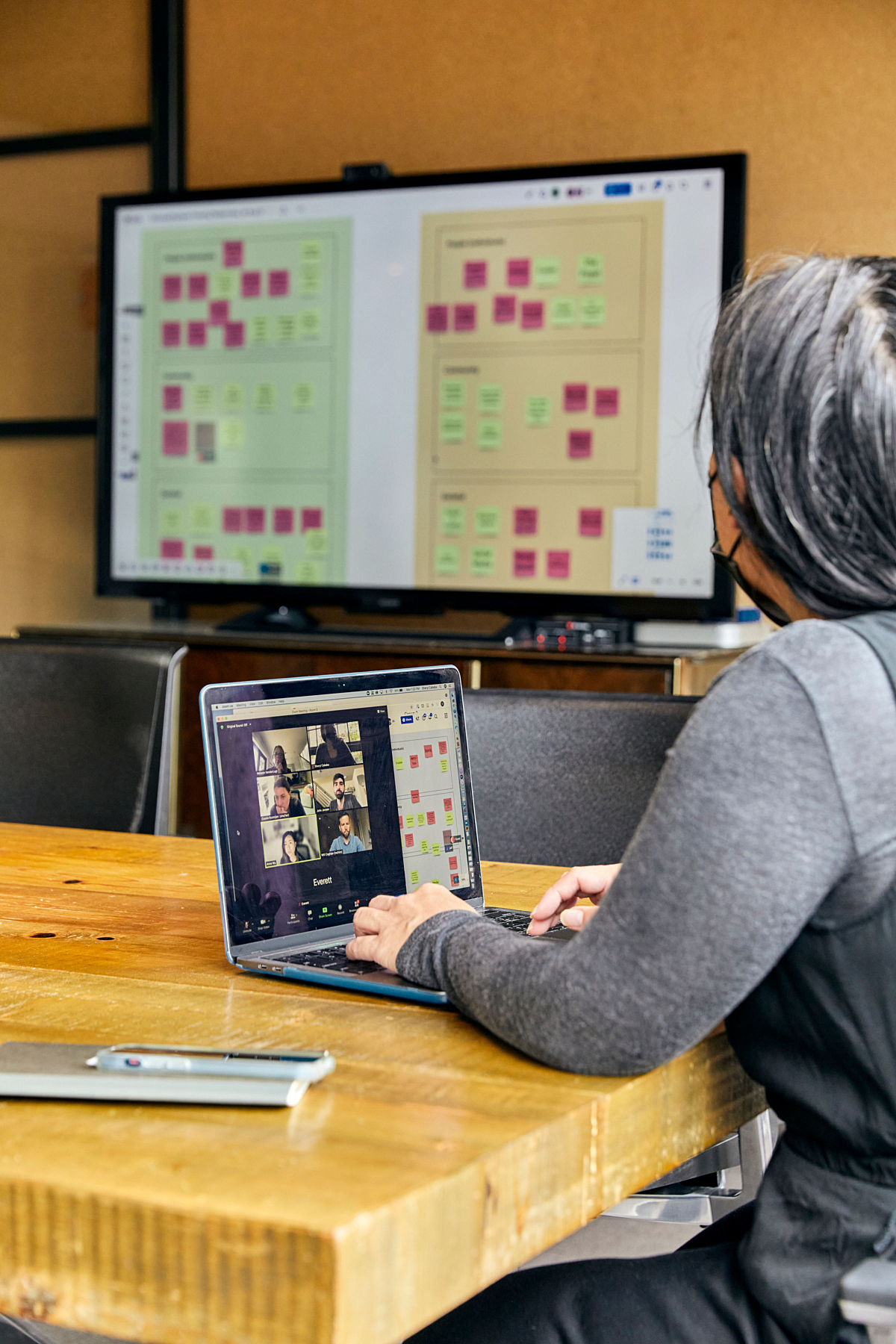 A Hybrid Studio
Work from Seattle, or wherever you work best
Founded in Seattle in 2006, the vibrant Capitol Hill community reflects our spirit. Today, the Substantial team brings that energy, diversity and passion from all corners of the map. We're committed to a flexible work/life balance with a happy, healthy you at the center.
Benefits
Do great work. Have a life.
We believe we reach our fullest potential when we invest in our lives as a whole—in and out of the office. Our comprehensive benefits cover everything you need to live your best life.
Wellness
Comprehensive medical, dental and vision. We pay 100% of the monthly premium for employees and a healthy portion towards dependents. Weekly yoga is offered to all full-time employees.
Education & Giving
We provide a yearly education stipend for conferences, classes and books. We're proud to support our employees' philanthropic causes with a donation matching program.
Time Offline
Generous PTO to start, plus 10 paid holidays, floating holidays, and additional time off for parental and caregiving leave.
401(k) & Profit Sharing
Substantial offers a comprehensive 401(k) plan with employer matching. We share our success collectively with an annual profit sharing program.
Flexible Working
We set reasonable expectations for work hours, and offer core working hours to accommodate our full lives. Live in your favorite city and work from where you work best. Our HQ is in Seattle, but you can work from anywhere.
Transportation
Employees have the option of a parking pass, public transit pass, or rideshare stipend. Plus, we have bike storage, lockers and a shower at our HQ.
Testimonials
I like working at Substantial because we keep it real. Everyone is invested in solving core problems, but we also work together as whole humans in all the variety and nuance that entails.
Senior Developer and Manager
Kind, intelligent people from top to bottom. I'd like to emphasize this. It feels a safe place to make honest mistakes.
Director of Development
Latest tech used whenever appropriate; I've done elixir, react-native, react, typescript, swift, rails, node, c#, container services, all sorts of good resume-building stuff.
Director of Development
It's easy to always be learning at Substantial, because that's the culture and there's space for it.
Sr. Software Developer
Everyone is so open and caring and wants to support each other whether it's on project work or as humans. It's really encouraging to show up as yourself and be accepted as yourself which is a breath of fresh air.
Associate Director of Engagement