Expertise
Webapp

Node/Express

React/Redux

UX/UI

Product Design

Development

Team & Culture Building
While technology is changing consumer services at a rapid pace, it's often the people who need it the most who get left behind.
Partners for Our Children, a nonprofit affiliated with the University of Washington working to improve the child welfare and foster care systems in Washington state, came to Substantial with the ambitious idea of creating a suite of web-based tools that social workers and service providers could use to replace time-consuming, paper-based processes. We saw an incredible opportunity to use our capabilities in the nonprofit sector—and better connect vulnerable families with invaluable social services.
Strategic Vision
The platform's objective: to help social workers track which services are received by children in child welfare, foster care and homeless systems, and then compare performance results between providers. The group wanted to streamline record-keeping among several groups, including the Washington State Department of Social and Health Services Children's Administration, and service providers statewide. The ideal solution would be a digital, mobile system that could be easily accessed among professionals who work with vulnerable families—and free up more of their time to spend helping them.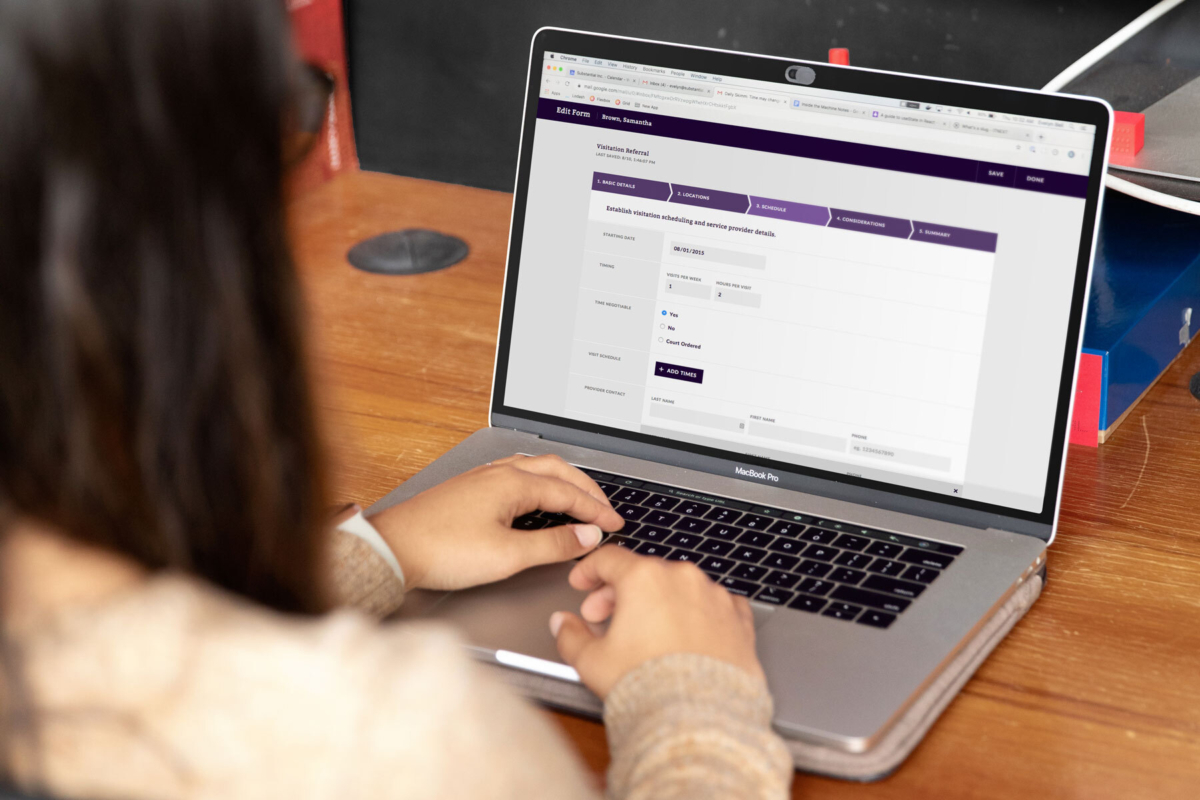 Partners for Our Children shared their early vision and motivation with Substantial to get help illustrating the program's goals through digital prototypes and strategy documentation. Substantial partnered to shape the product vision, creating a product strategy and proof of concept that was used to gain traction with funders. After the Dickens novel, the app was named Oliver.
We collaborated with Partners for Our Children's internal stakeholders, policy experts, and user groups in the social services industry to develop our product strategy. Once we reviewed the project challenges and objectives, we identified several areas where we could help: Reducing duplicate entries, making forms easier to use, and improving performance reporting and compliance. We outlined multiple goals for the project, including improving data collection and visibility.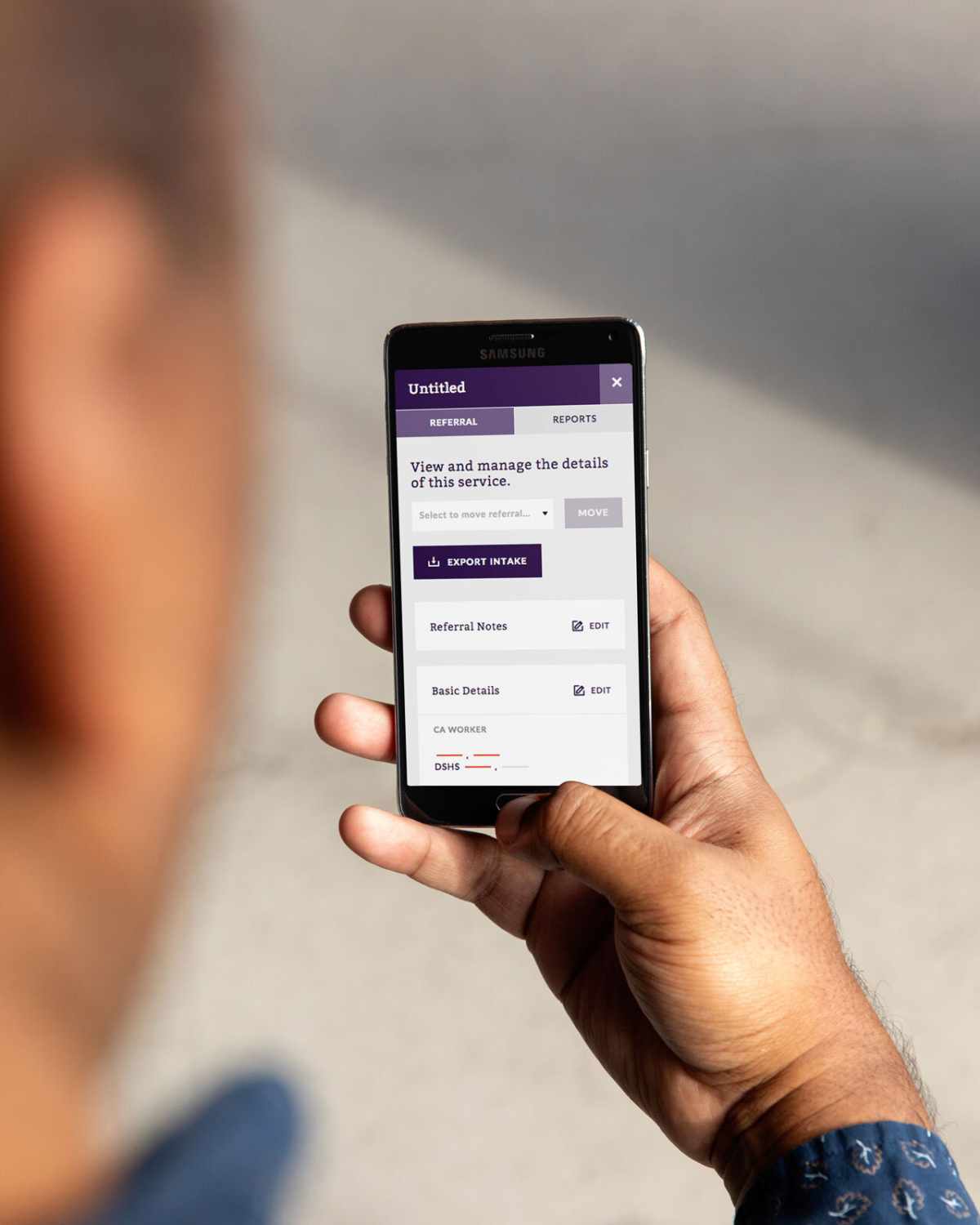 Design + Build
Once funding was secured, Substantial paired user-centered design exercises with quick iteration to launch Oliver's first in-visitation services program components within six months.
Our team developed a prototype, supported by strategic documents, to illustrate the program's digital goals to their funders in the most compelling way possible. Once initial program funding was secured, we paired user-centered design exercises with quick, iterative development sessions to develop new features. We also had to ensure it would work well across a multitude of devices since service providers statewide would be accessing it via iOS and Android.
"

The responsiveness of the team, the access to the CEO and the leadership team at any point in time, the welcoming aspect of our teams inside your offices. [Substantial is] definitely the model, the bar to hold everybody up to.

Abraham Ray : former director of technology / Partners for Our Children
Measure + Optimize
After passing a required security and privacy audit by Washington state's CIO, Oliver launched its pilot program in 2015 with eastern Washington visitation providers before expanding across the state and piloting in nine states. The system launched with more than 8,000 children enrolled into the digital database.

Together, we helped Partners for Our Children develop a platform to support the business processes of service providers and case workers, while it also cleaned up data and analytics. The app helps service providers find client histories fast, accurately access and update their cases, and also reduces paperwork. It saves nonprofit providers in child and family services valuable time that is better spent helping clients—about 100,000 families each year.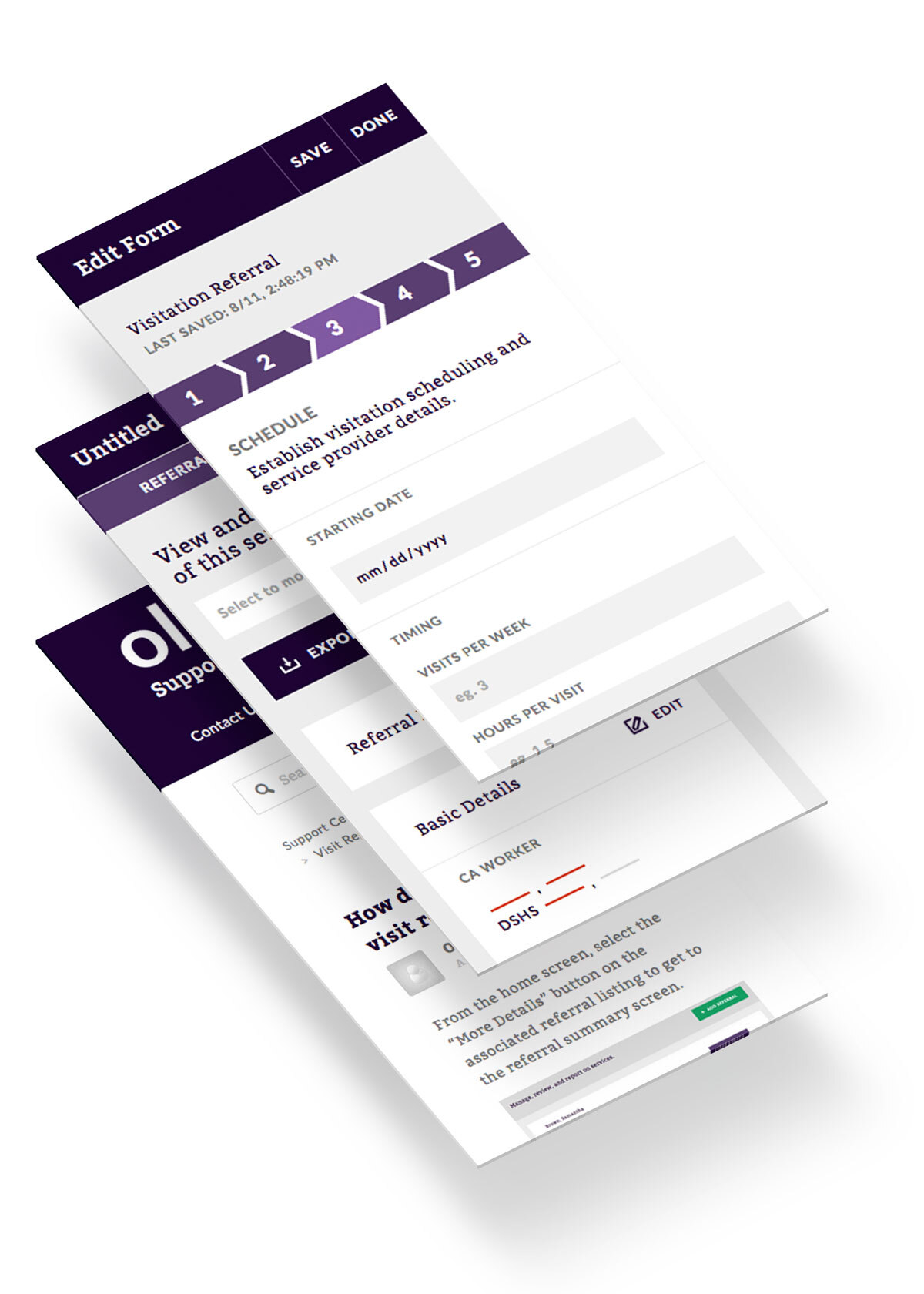 Real Impact

Speaking on the impact of Oliver, Abraham Ray, former director of Partners for our Children, told UW News that state law requires that children removed from their homes due to abuse or neglect have a visit with a parent within seven days, but burdensome paperwork and ineffective protocols were delaying the process as long as 20 days.
After implementing Oliver with providers, the wait time was reduced to less than 24 hours, and the administrative time spent on visits was reduced by about 30%. "No-shows" from parents were also reduced by over 20%, reducing the costs of visitation—and improving its likelihood.
"

[Using Oliver is] just as easy, if not easier, than ordering something off Amazon or booking a ticket on Alaska Airlines.

Abraham Ray : former director of technology / Partners for Our Children
Evolve
An engagement spanning several years of partnership and post-launch development, we expanded Oliver to include digital record-keeping for runaway homeless youth and foster care providers, later releasing performance and analytics reporting for visitation providers.

Oliver is now used by over 600 providers in Washington state to facilitate services, track client needs at drop-in centers for homeless youth, and help coordinate court-ordered supervised visits between children living in foster care and their biological parents. It's also used to streamline the process for licensing foster parents and better match children with foster families.
Fast Facts
611
Registered service providers
52,000
Managed service reports
10,000
Families served per year
Let's build a better future, together.