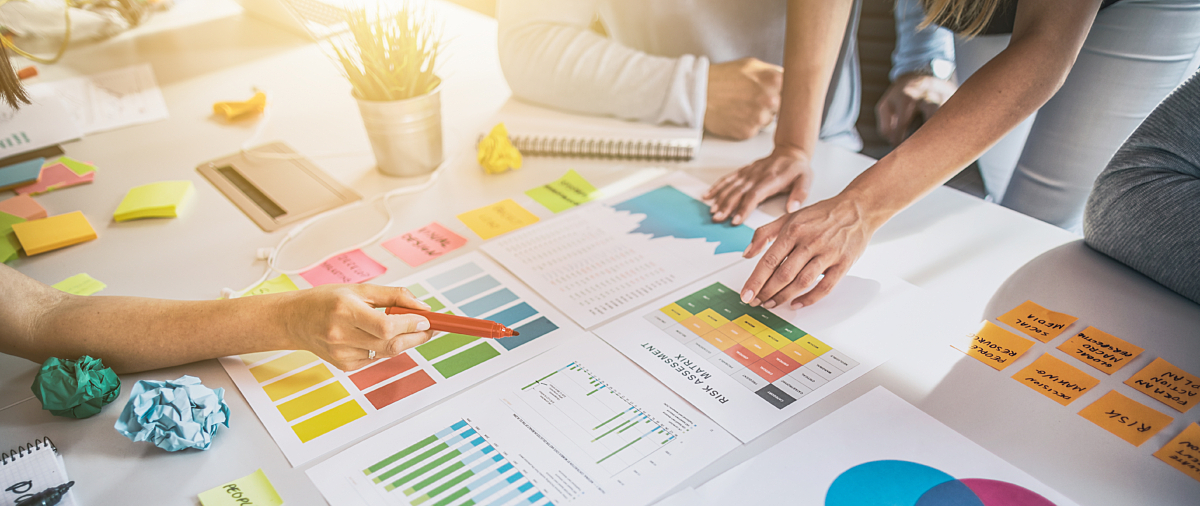 Product Strategy
Design Research Isn't Optional: How to Build a Market-Resilient End Product
Author
Christine Johnson, Associate Principal Designer
As we shape a research and design project, more often than not, we get the following typical comments from project stakeholders:
"The schedule looks good, but what if we cut the research phase in half?"

"Can we just skip straight to the design part of the project?"

"How much would we save if we just cut out research and testing?"
Design research is a process that considers not only the end user, but prizes building empathy for a variety of different stakeholders. With empathy as your primary processing tool, this approach is to determine the 'why' behind people's behavior and how they interact with a given product or service. Design research is a way to remain grounded throughout your product design process, prompting you to remember: you are not your user.
When adding design research methods to your team's process, consider the following principles when engaging in user-centered design research:
#1: Figure out what types of design research you need to invest in to best understand your users.
There are three types of design research: foundational, generative, and evaluative. Foundational research is focused on understanding people as they are currently: environments, relationships, needs, wants. Generative research builds on foundational research by investigating how potential design solutions might fit into peoples' contexts. Evaluative methods of design research help you assess a more specific concept. All are equally important to understanding the ecosystem in which your product will exist.
People Research Phase (Foundational): The discovery phase is research at the beginning of an idea, needing the exploration and voice of the end user, stakeholders, and SMEs to better understand where the idea may fit in the space — if at all. The data from the research in this phase helps ensure alignment between your goals, the users' goals, the strategy of the product, and the goals of the business. Research methods can include surveys, one-on-one interviews with the end users (in-person or virtual), behavioral research, competitive research, and interactive workshops with end users and stakeholders.
Concept Testing Phase (Generative): This phase is about getting your potential solution in front of the end user to test how it might fit into peoples' context. The user research and outcomes in this phase are critical because now could be the time to pivot your idea based on your end users' feedback. Depending on the goals of testing, research methods in this phase can be shaped into testing with high or lo-fidelity key screens, or even testing the content or copy without designs. A few research methods include highlight test, A/B content testing, task completion, sentiment testing, card sorting, or content retention.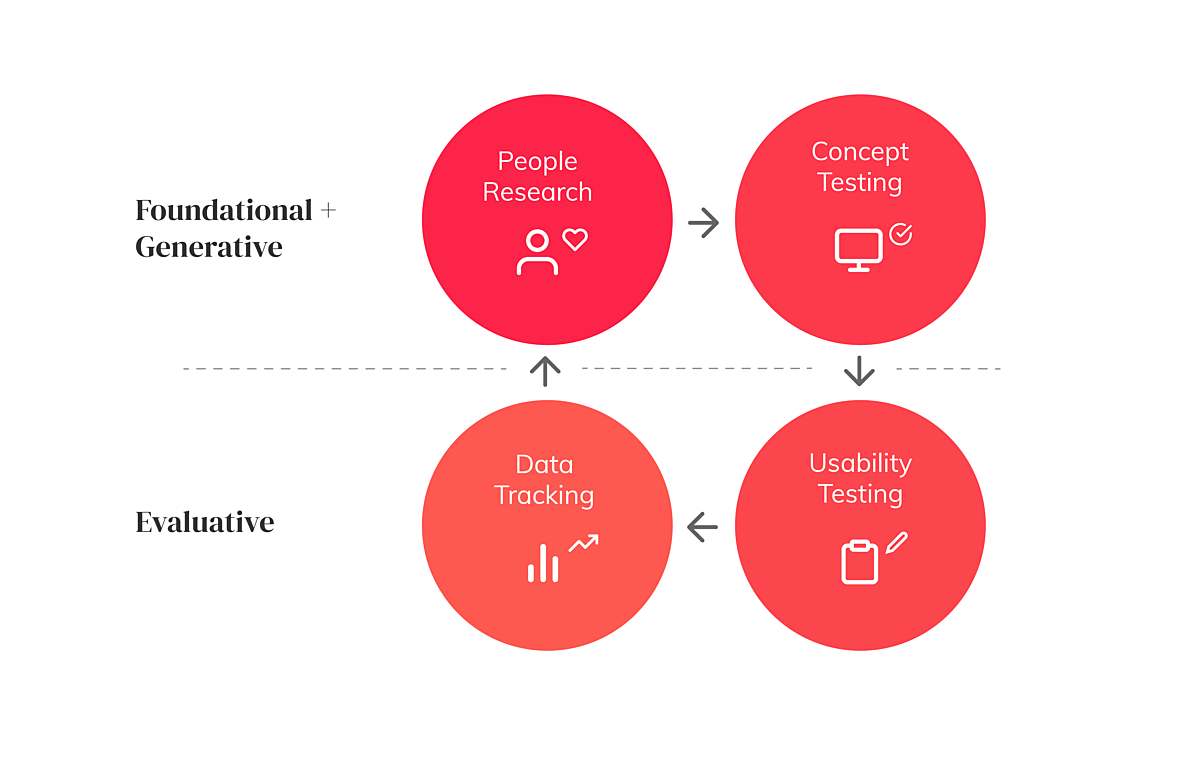 Usability Testing Phase (Evaluative): This phase helps align the business goals and strategy of the product to the end users' core needs, mental models, and expectations of the product itself. Here we can test interaction models of the interface or specific workflows or tasks you want the end user to complete. Ultimately, main goals are to iterate and update the product based on collected and synthesized data of the end user interacting with the product. Several research methods include: click-through prototypes with Figma or Invision, a live dev production prototype, RITE testing, or engaging a tool for outside quantitative testing, like UsabilityHub.
Measuring Impact: Live Build Phase (Evaluative): Once the product is built and live, user research in this phase helps you understand usage while also allowing you to measure the impact of your product. Here, you can make adjustments from the data and continuously improve on the user experience. Research methods include tracking data through your analytics platform, continuing the conversation with the end user, and surveys inquiring about current state or future concepts/features.
#2: It's not just about researching with users. Get creative about learning from other system stakeholders.
At Substantial, our design research process considers not only the end user, but emphasizes engaging with a variety of system stakeholders who could be impacted. By expanding your research to experts and additional system stakeholders, product teams gain a better understanding of the area of focus and, in turn, create more holistic and informed solutions.
When engaging other system stakeholders, cross-discipline product teams can get creative with whom and how they conduct interviews or workshops. For example, when working with a multinational enterprise information technology company, we conducted a two day in-person workshop with stakeholders, technology SMEs, and the customer service team that interacted with the end users regularly to help identify areas of opportunity from the business, technology, and user perspective of their warranty process. Having this cross-discipline group together shed light on the possibilities at a greater scale, while still grounding the solutions to the user represented through the experts in the conversations.
In many ways, through synthesis of multi-faceted stakeholder input, you are in pursuit of understanding the possible solutions within the problem space - seeking to build empathy for individuals who may not be the end user, but are impacted or could be affected by the product or service.
#3: Inclusive design research leads to more equitable outcomes.
The more inclusive your design research the more equitable and sustainable your product or service will be over a longer period of time. Consistent engagement with system stakeholders through the design and build process allows the product team opportunities to audit any internal biases, unchecked false assumptions, or review any stakeholders that might have been excluded from the design process.
For example, we recently worked with a company hoping to expand into an international market with one of their digital products. There were no plans to test outside of the U.S., so we encouraged our client to conduct research globally. Ultimately, we spoke with individuals from several different countries and gained a much clearer understanding of the possible language barriers, the different education levels, and how the cultural nuances changed their perspective of the product or service.
Conclusion
To be successful, product teams can embed this approach within the design process for any given product or service, allowing for evidence-based decision making throughout the entirety of the design and build timeline. And with ever increasing complexity in our modern world, now is the time to invest in design research. When paired with strategic integration of the business needs, designers can create an informed, powerful product with cross-generational utilization.
In short, here just a few points making the case for investing in design research:
having a better understanding of and empathy towards your end users;

increasing adoption and retention;

avoiding design debt from usability problems in the future;

saving valuable project resources: time and money.
Time is of the essence when crafting digital solutions in a competitive marketplace, and at Substantial we understand when our busy, budget-conscious executives are looking to speed up a product lifecycle by reducing research time and budget. However, through our process of honing our research offerings, we find the projects that incorporate design research, where complex human beings are at the center of design, ultimately end up being the most market-resilient and successful over longer periods of time.
Let's build a better future, together.