Bill & Melinda Gates Foundation
Human-centered design research for the Middle School math experience
Learn more
Expertise
Human-Centered Design Research + Strategy

Workshop Facilitation

Equity-Centered Design

Expert Interviews

Targeted Universalism
Grand Challenges are a series of grantmaking initiatives at the Bill & Melinda Gates Foundation focused on fostering innovation to solve key problems in global health, development, and equitable access to opportunity.
Early in 2020, two teams within the foundation's K-12 Program, Coherent Instructional Systems and Middle Years Math, set out to release a Grand Challenge, primarily focused on Black, Latino, and emergent multilingual learners, and/or students from communities experiencing poverty to dramatically overhaul and improve student experiences and outcomes in Algebra 1.
The foundation partnered with Substantial to use design research and strategy to help define the most impactful areas of focus to affect change in the Algebra 1 landscape. These opportunity areas would then inform the Grand Challenge.
The Opportunity
For middle and high school students, Algebra 1 is one of the most important indicators of future success. Students who don't complete Algebra 1 have only a 1 in 5 chance of graduating from high school. Many young people don't have the support they need in the Algebra 1 classroom — especially Black and Latino students, students from communities experiencing poverty, and emergent multilingual learners.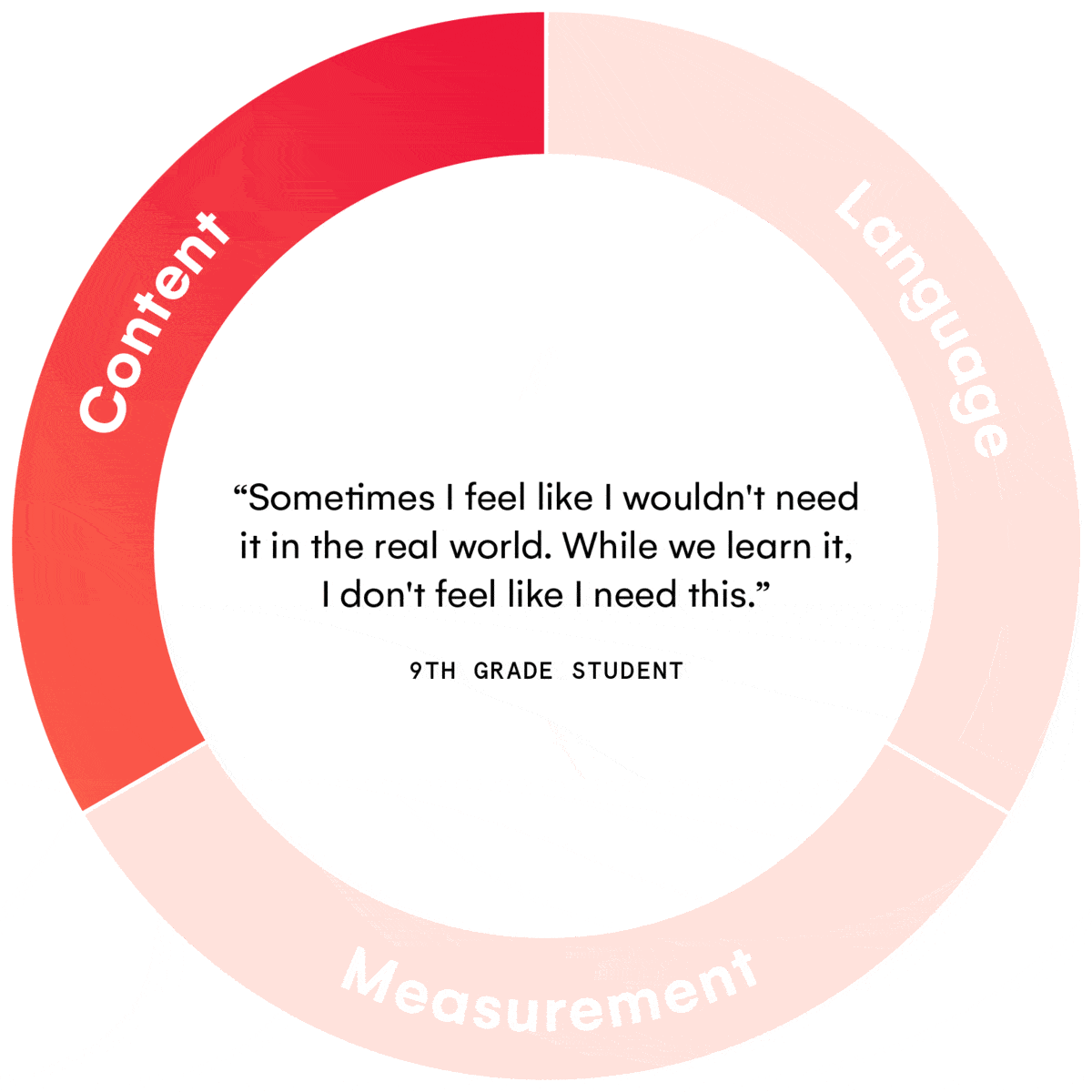 The goal of the Grand Challenge was to encourage the brightest minds across the country to submit ideas that promise to accelerate student learning toward mastery of Algebra 1 by the end of 9th grade. Moreover, the foundation outlined their desire for this Grand Challenge to elicit a response from people who might not typically apply to large grants.
Led by VP of Strategy, Sheryl Cababa, Substantial's researchers sought to conduct human-centered design research that provided the foundation with: 1) a full understanding of the Algebra 1 existing ecosystem and its stakeholders; and 2) a clear definition of the ideal areas of focus to address student mastery of Algebra 1.
Our Approach
The Substantial team focused on two major points of inquiry: 1) harnessing the expertise of math and education luminaries through participatory design workshops, and 2) learning about and elevating student voices through direct activities and interviews with Black and Latino Algebra 1 students. Aligning with principles of targeted universalism which emphasizes an understanding that Black and Latino students are not a monolith, we sought to interview students from varied economic backgrounds, school types, and U.S. geographic regions, both urban and rural.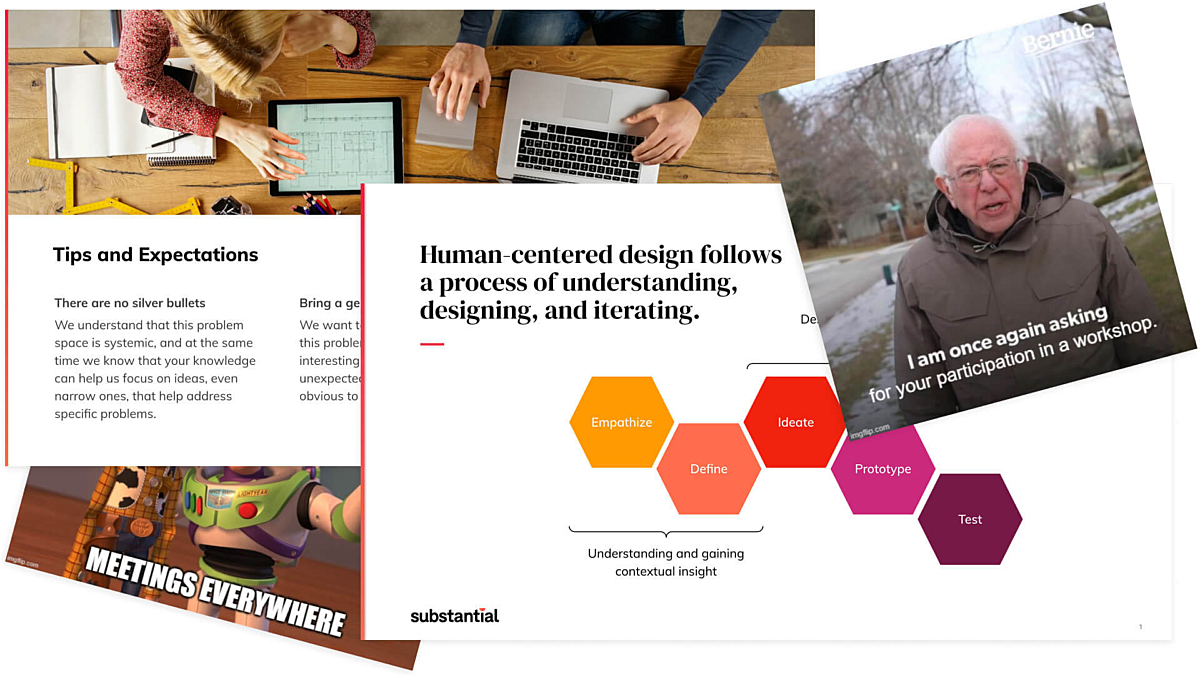 To carry out this work, the team also partnered with EdSolutions for market and quantitative context, and Samantha Gil-Vargas from Geeking Out Kids of Color to provide cultural context for our researchers. The start of the research project coincided with the beginnings of the COVID-19 global pandemic. As a result, the team had to find creative ways to conduct research and engage expert stakeholders in a virtual format, rather than the usual approach of contextual inquiry and dynamic in-person workshops.
Using Cultural Activities to Bridge the Gap
With the limitation of virtual interviews, the research team had to consider ways of effectively connecting with students. One method that helped to address these constraints was the use of cultural activities. In advance of the interviews, students had a choice of artifacts that they could create to express themselves creatively: choosing between creating memes, keeping a photo diary, or filming TikToks or videos.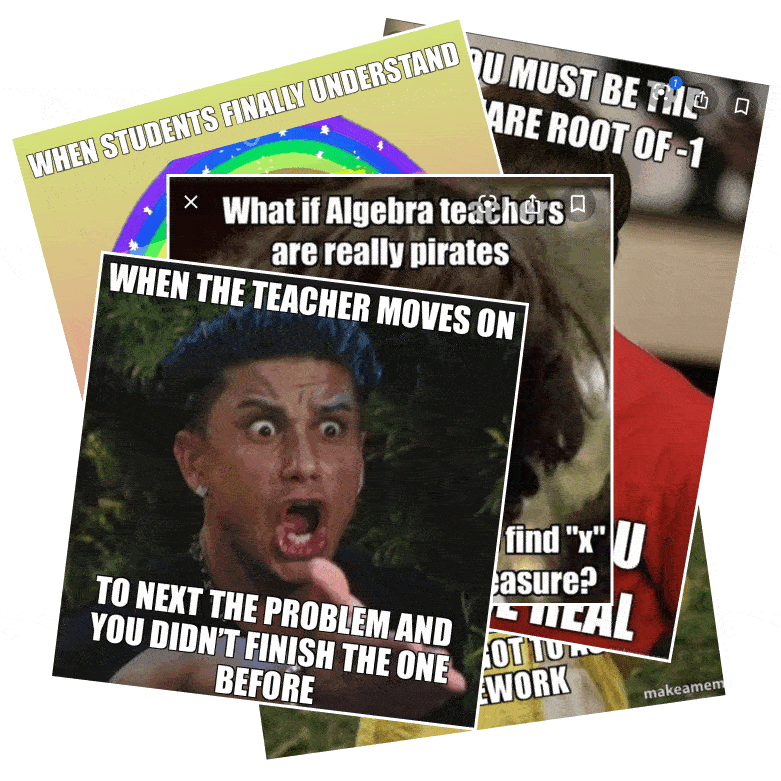 I Really Meme It
These cultural activities allow the researchers to meet the students where they are by communicating through a familiar medium, empowering them to be a creative and active part of the research process, while also onboarding our student participants to the themes of their eventual interview.
For Substantial, disrupting the usual power dynamic between researchers and students is an important aspect of designing for equity, and engaging in sharing our output, and creative empowerment for research participants, is part of this.
Workshops with Experts in the Space
In order to understand the Algebra 1 problem ecosystem beyond the student experience, our project team engaged more than fifty racially and regionally diverse subject matter experts — researchers, practitioners, and content providers — over the course of a two-day problem definition workshop. Conducted virtually over Zoom, these expert workshop participants emphasized the multiple layers of systemic racism, sexism, and bias that affect Black and Latino students' math experience.
The workshops were mutually beneficial: they allowed experts to empathize with the students Substantial interviewed and learn from their experiences, while also allowing the Substantial project team to benefit from the field luminaries' expertise.
Fast Facts
600+
Digital stickies generated
The Outcome
Launched in October 2020, the Algebra 1 Grand Challenge was the first Grand Challenge focused on education in the United States. Based on Substantial's primary research efforts with students, teachers, and academic experts across the nation, five areas of focus were identified in the grant application as having the biggest opportunity for altering the traditional classroom experience and its outcomes for priority students.
Ultimately, the grant application received 416 applications and 15 grantees were selected to enter Phase 1 of the program. Of those 15, a final group of 8-10 will then be funded to enter into Phase 2, where their solutions will continue to be developed and piloted into the 2021-2022 school year.
Let's build a better future, together.